Atomic Potato Chips!

The Idaho Manufacturing Alliance congratulates the Atomic Potato Chip Company for winning this year's Coolest Thing Made in Idaho contest!
Sponsored by Idaho Power, with support from TechHelp Idaho and the Idaho National Laboratory, the IMA ran its virtual contest for the second year running in conjunction with National Manufacturing Day (#mfgday21) and Idaho Manufacturing Month (#idmfg).
After a nomination phase, followed by two rounds of voting, Atomic Potato Chips won by a landslide (or an atomic bomb)! (The other finalists can be viewed below.) The company describes their chips as Old School Potato Chips, "something your grandmother might have made as a treat in the kitchen". Made fresh every week, these potato chips are made from skin-on russets, hand-cut in 3 different thicknesses. They are then fried in peanut oil to a golden brown and seasoned with a variety of different flavors to please everyone! Want a chip that tastes like an Idaho Campfire? Love Fry Sauce so much that you can't take the extra step to dip? Dream of a beach in the Caribbean and want your Pina colada on a potato? The flavors go on and on…Aged Cheddar Jalapeno, Buttery Garlic Sweet Onion, Sal's Brooklyn Pizza, PB&J, Smokey Bacon Cheddar Horseradish, Salt Lake Plain (salted), Big Cheese, Naked and Free (unsalted), Ketchup and Fries, and last but not least, Salted or Cheesy Spicy Taco Tortilla Chips.
Show this husband and wife team some love! Order a couple of flavors and see what their fans have been raving about!
Congrats to the husband and wife team at Atomic Potato Chip Company!
2021 Runners Up
Nex-Gem3 by Idaho Steel
Idaho Falls
Potatoes, as well as many other fruits and vegetables, are increasingly being used as raw materials for differently formed products.
Forming is a complicated process, resulting in a highly vulnerable end product. Moreover, a producer needs to be able to quickly switch between different forms. A highly vulnerable product combined with the lack of ability to switch between forms can have a significant effect on the production and output of product.
The Nex-Gem Rotary Former helps to take care of both of these issues.
https://www.idahosteel.com/index.php/processes/forming/nex-gem-rotary-former/
CMMS Appliance Kit by Critical Machine Parts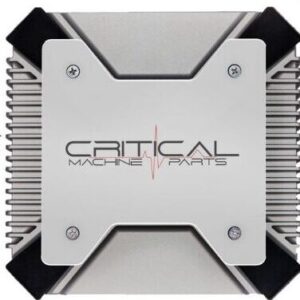 Boise
The pre-programmed CMMS Appliance kit simplifies predictive maintenance to strengthen U.S. manufacturers. The kit securely integrates real-time machine monitoring with databases to replace parts before they fail.
Simple, real-time machine monitoring triggers maintenance work orders based on vibration and temperature warnings.
Secure, turnkey appliance hardware translates data for exchange between sensor gateways and database servers without controls programming.
Programless data exchange with proprietary or third-party CMMS (Computerized Maintenance Management Systems) reduces equipment losses for more profitable production results.
2021 Finalists