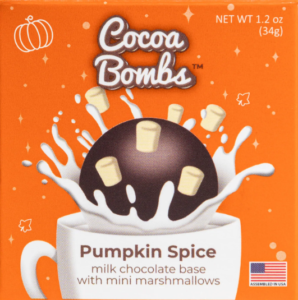 Cocoa Bombs
Blackfoot Idaho
The Cocoa Bombs product began in the heart of Boise, Idaho when Eric Torres Garcia developed a globe of chocolate filled with marshmallows that was designed to melt into hot milk and create a delicious cup of hot chocolate. The first Cocoa Bombs ™ became an immediate viral success after an online homemade video post on TikTok.
Eric designed Cocoa Bombs™️ as a fun alternative to ordinary – and BORING – hot chocolate powder mixes. Since the beginning, the growing menu of Cocoa Bomb products have been made with premium quality chocolate and other high-quality ingredients that produce a smooth taste and explosive experience that users don't forget!
What Makes This Product The Coolest Thing Made In Idaho?
Eric Torres Garcia is a graduate of the College of Business and Economics at Boise State University. After achieving sudden and unexpected demand for his product thanks to a TikTok video, Eric used all of his business knowledge and connections to turn his idea into a branded product and to create a company and production facility to meet demand. Today, Eric operates out of a newly constructed 6,000-square-foot production facility in his hometown of Blackfoot, Idaho,