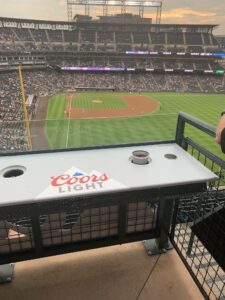 Don't just keep your beer cool, make it Coldr! Nobody likes a warm beer. Coldr Cup Holders make your beer colder than it was served, so the last sip is colder and more refreshing than the first. Coldr Cup Holders don't just keep beer cool, they actually make it colder. Beer is typically served around 38°F and immediately begins to warm. Coldr Cup Holders can quickly chill the beer to an icy cold 34°F (or colder). The last sip is actually colder than the first. Research shows that if the last sip of beer is less than 45°F, you're more likely to buy another beer.
Coldr Cup Holders come in drink rails and tables specifically designed for peak cooling performance, guest comfort (including phone chargers), outdoor durability, and easy maintenance. Coldr Cup Holders do not use traditional refrigeration. There are no compressors, no chemicals, and no requirement for 24/7 operation. Instead, they use solid-state thermoelectric technology. Just turn it on when you want to use them, and turn them off afterward. The cup holders adjust automatically to fit a variety of can sizes, bottle sizes & profiles, plastic stadium cups, and traditional pint glasses. The drink rails and bistro tables include Coldr cupholders, inductive phone chargers, purse hooks (yes ladies), and foot rails. Cup Holders were originally designed and sold exclusively to Molson Coors and installed in national professional stadiums and ballparks for a "cold beer" experience in VIP seating areas. Now they are available for bars and restaurants with larger custom size/shapes for more seating options, height adjustability, and custom color choices.
What Makes This Product The Coolest Thing Made In Idaho?
"A cold beer and a charged phone...What more could I want?!" -Atlanta Braves Fan
Not only is it cool - it's cold! Coldr Cup Holders make your beer colder than it was served - no more warm beer at the ballfield! Coldr is the coolest thing made in Idaho because it helps creates a full VIP stadium experience unlike anything else. By implementing this technology, Legacy US won Molson Coors Annual Gallantry Innovation Award for "Taking Smart Risks That Pay Off" because it was such a unique invention and a novel experience for users. Coldr technology has scaled nationally and is installed in NFL, MLB, NHL, NBA, college stadiums and casinos bringing a small taste of Idaho into each game-day experience. Coldrs are designed, manufactured, and assembled locally in Boise, ID with a small team of production and engineers.
Vote for Coldr™ Cup Holders