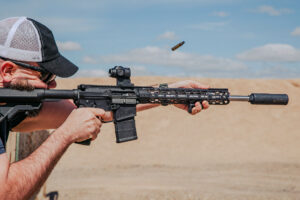 Known as a premier AR-15 accessory manufacturer, we are pleased to feature the OTR-15 (ODIN Tactical Rifle | AR-15). The OTR-15 lower is machined in-house from billet 7075 aluminum with exacting tolerances, features and style in mind. Machined to match the ODIN Works billet upper, the OTR-15 receiver sets provide a best-in-class chassis that an ODIN Works rifle deserves to be built on.
The OTR-15 lower features ambi controls for the safety and bolt release with an Extended Bolt Catch. All of the OTR-15 rifles come with an XMR3, ODIN backplate, and mil-spec buffer system. Completing the build with a Bravo stock and Type-23 P grip from B5 Systems, the OTR-15 is range ready out of the box.
The top end of the OTR-15 features the best-selling ODIN Works barrels with tunable gas block, O2 Lite forend, XCH charging handle, and billet upper. Simply put, all your favorite ODIN Works parts are now all in one place for your shooting needs.
What Makes This Product The Coolest Thing Made In Idaho?
Celebrating their 10th anniversary as an industry leader and an innovative group creating and manufacturing AR-15, AR-10, & AR-9 products and accessories. ODIN Works brings experience and knowledge to the consumer through progressive design and technology. This product is the Coolest Thing Made in Idaho, because of its superb quality, versatility, and best quality for the price. They are proud to say our products are manufactured in Idaho, USA by Americans.
ODIN Works manufactured and added custom features creating a production rifle that is versatile, adaptable, and customizable. Whether you're at the range, defending your home, or out in the backcountry getting your trophy game, this rifle is your one-stop shop for all your needs. Putting stock and grip aside, the entire rifle is made and manufactured at their facility in Boise. The consumer can interchange all of the accessories to make them unique and tailored to them.
ODIN Works manufactured a rifle that is the best bang for your buck. The OTR-15 is equipped with their most popular aftermarket accessories and designed with input from industry experts to increase functionality, making the OTR-15 rifle manufactured in Idaho a pleasure to shoot for any firearms enthusiast.