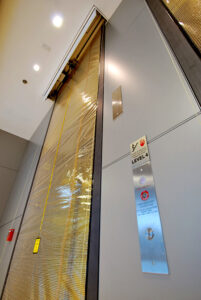 Flexible smoke and fire containment systems are the focus at Smoke Guard – and have been for more than three decades. Home grown in Boise, Idaho we specialize in reclaiming usable space and providing invisible code compliant protection with innovative flexible smoke- and fire-rated curtains that deploy when smoke is actively detected to allow valuable time for occupant egress and fire suppressant systems to go to work.
What Makes This Product The Coolest Thing Made In Idaho?
Originally designed by a local architect in Boise, we started at the elevator and have grown to provide provide flexible curtain systems that deploy both vertically and horizontally throughout the constructed environment worldwide. Today we provide superior deployable fire and smoke-rated life safety products for satisfying building codes and and protecting building occupants from from vertical smoke migration in the event of a building fire.
Vote for Smoke Guard Fire and Smoke-Rated Curtains